Now Accepting Online Submissions!

Contest winners feature in every winter issue since 1989, and many have gone on to greatness. Winners also win a pretty nice cheque. How do you feel about $1500 in prize money? To get a feel for what we like to publish, pick up a previous copy of EVENT.

Join our mailing list (on your right), check our blog and follow us on Twitter and Facebook for regular contest updates.

Contest terms below are subject to change.
Full Contest Details:

Guest Judge: Ayelet Tsabari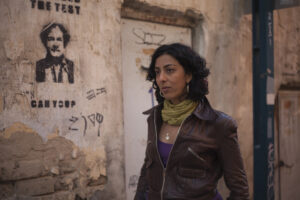 Ayelet Tsabari's first book, The Best Place on Earth, won the 2015 Sami Rohr Prize for Jewish Literature and has been published internationally. In 2013, Ayelet was named as one of ten Canadian writers to watch by CBC and in 2014 she was awarded a Chalmers Arts Fellowship. Her non-fiction has won a National Magazine Award, a Western Magazine Award, and The New Quarterly's in-house Edna Staebler award. She is a graduate of the Creative Writing MFA Program at Guelph, and lives in Toronto, where she teaches creative writing at the University of Toronto.

Genre: Creative Non-Fiction.

Prize: $1,500 in prizes plus publication in EVENT. EVENT reserves the right to award the prize money as it sees fit (e.g., two prizes valued at $750, three at $500, or one at $1000 and one at $500, etc.) in accordance with the judge's decision. Published entries will be paid our standard publication payment in addition to any prize money.

Cost: $34.95 per entry; includes a one-year subscription to EVENT and all applicable taxes and shipping—a great deal!

Deadline: April 15, 2016 (postmarked or submitted online)

Three Ways to Submit:
Use our online submission form
Email entries to event@douglascollege.ca (Subject: Non-Fiction Contest Entry) and pay the entry fee on our buy page via PayPal
Send your manuscript, along with a cheque or international money order, payable to EVENT, to the address below. (American entrants please pay in US dollars.)

EVENT
Non-Fiction Contest
PO Box 2503, New Westminster, BC
Canada, V3L 5B2

Rules
5,000 word limit on entries.
No previously published material, or material accepted for publication elsewhere, either in print or online.
No simultaneous submissions.
Do not identify yourself on the entry. Include a separate cover sheet with name, address, phone number / email, and title(s).
Multiple entries are allowed; however, each entry must be accompanied by its own $34.95 entry fee.
If already subscribed to EVENT, you will receive a one-year extension.
Entries will not be returned.
If entrants wish feedback and commentary on manuscripts, please check out our Reading Service for Writers.
Preliminary judging is done by the Editor and editorial assistants at EVENT.
Douglas College students, employees and their immediate family members are not eligible to enter. Douglas College students may enter two years after completing courses.
Entries must be postmarked or submitted online by April 15.
Contest results are posted on our website and through social media in August. The winning entries and judge's essay are published in the December issue of EVENT.
For more information, contact us at event@douglascollege.ca or 604-527-5293.