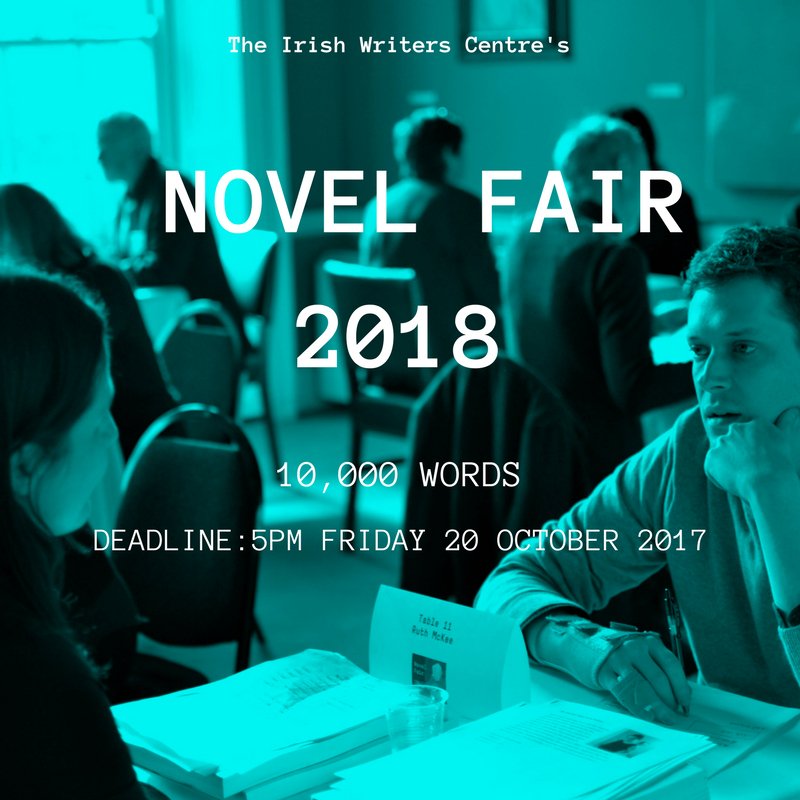 Novel Fair 2018
What is the Novel Fair?
Described by The Irish Times as a 'Dragon's Den for writers', the Novel Fair is an Irish Writers Centre initiative which aims to introduce up-and-coming writers to top publishers and literary agents, giving novelists the opportunity to bypass the slush pile, pitch their ideas and place their synopsis and sample chapters directly into the hands of publishers and agents.
Over the past few years a range of publishers and agents have attended the Fair including Penguin Random House Ireland, Hachette Ireland, Transworld Ireland, Curtis Brown, New Island Books, O'Brien Press/Brandon, Lilliput Press, Tramp Press, The Book Bureau, John Murray, Tinder Press, Marianne Gunn O'Connor Literary Agency, Jonathan Williams Literary Agency, Lisa Richards Agency, Feldstein Agency and Author Rights Agency as well as New York based agent Regal Hoffmann & Associates.
There have been a number of success stories since the Novel Fair has been established, such as:
Janet E. Cameron's novel Cinnamon Toast (Hachette)
Niamh Boyce's novel The Herbalist (Penguin Ireland) which was longlisted for IMPAC 2015
Beatsploitation by Kevin Curran (Liberties Press)
Here In No Place by Alan Timmons' (New Island)
The Reluctant Cannibal by Ian Flitcroft (Legend Press)
Daniel Seery's novel A Model Partner (Liberties Press)
Susan Lanigan's White Feathers (Brandon Press)
Eggshells by Caitriona Lally (Liberties Press)
Andrea Carter's novel Death at Whitewater Church (Constable & Robinson)
Swimming on Dry Land by Helen Blackhurst (Seren)
Take a look at our
video of Novel Fair 2015
to get a flavour for just how exciting this event can be!
How can I enter Novel Fair 2018?
Novel Fair 2018 was launched on Thursday 13 April 2017 at the Irish Writers Centre.
For more insights into this year's Fair, see our
Twitter
, or search
#NovelFair2018
. Or why not hear from a two-time Novel Fair winner about travelling all the way from Canada to participate? Mairéad Rooney gave us some inside tips in a
recent blog
.
Application Process
The submission period is Thursday 13 April - Friday 20 October 2017.
Entry fee for applications is €50 for non-members and €40 for IWC members and is non-refundable.
There is no limitation on style, genre, or target market, the only requirement being that the writer has not published a novel before i.e. has not previously published a novel with an ISBN.
Applicants are required to send a synopsis of a max. of 300 words and up to five chapters of their novel, which should be 10,000 words (+/- 10%).
Please send two copies of the manuscript and three copies of the synopsis. One copy of the synopsis should be attached to the application form which can be downloaded from our site, the other two should be attached to the copies of your manuscript.
All submissions should be posted or hand delivered to: Novel Fair Competition, Irish Writers Centre, 19 Parnell Square, Dublin 1, Ireland.
Entries must be accompanied by an application form.
There is a limit of one entry per applicant.
Entries are welcome from anywhere in the world, however, in order to be eligible, applicants must be available to attend the whole day of the Fair in February 2018.
Before entering the competition, please ensure that you have downloaded and correctly filled in the Novel Fair
Application Form
. You can download the Novel Fair Application Form
here
.
Before entering the competition, please ensure that you have read the Novel Fair
Terms and Conditions
very carefully as the Fair is open to previously unpublished aspiring novelists only. You can download the Terms and Conditions
here
.